★[Japanese Page]  ★[English Page]
Mino story from 1964
1964-1967

At my first year of high school, I asked at the front security gate of the Fuchu military base to find out whether I could work inside the base as a newspaper delivery boy. I was then referred to the PS&S Office, and my 3 years of casual work began.

1967-

At my graduation of the high school, I left the Stars and Stripes Office and started working at a company in Meguro, Tokyo.


1968-Jul

One day, Jim dropped by at my house to farewell, and him and his family went back to the States following day.

1968-2012

Since that day, I've lost contact with Jim, and 44 years have been passed. The Stars and Stripes Office had moved to Yokota from Tachikawa, but yet I haven't visited there not only once.
When I retired 4 years ago, I launched a new business called 'P-cle Time' and created a website.

2012-Nov

November 25th 2012, I have received an email from someone who found my contact from the business website (P-cle Time) I created. That was Jim. Such a beautiful surprise that was, and I almost moved to tears.

2013-

This website 'Stars and Stripes Newsboy Story' was created to record my memory of those days. I began researching the past and present of the Kanto-mura, Fuchu Base and PS&S office, and about Newsboys and associated employees back in those days.
Although some evidence of the past can still be spotted now, since the return of the Kanto-mura and Fuchu Base to Japan, the area has been superseded by new buildings and parks of public and educational institutions.
Informaition
2014/6/16

I introduce an email of Shelley-san.
Thanks for email!


2013/4/28

Up English version page for Jim. My english poor. So thank for translation of the Mr. daughter.


2013/4/26

I met Takeishi again after an interval of 46 years.


2013/3/20

Six member met again after an interval of 46 years. newsboy which was a high school student became an uncle in those days.


2013/2/7

An email that I was splendid arrived to see this homepage from Jim. I am very glad, too.

---

To have a memory
An email from Jim, after 44 years of lost time, brought my great memories of youth back, and encouraged me to document my old stories from the 46 years ago.
In 1964, when I was working at the Kanto-mura as a newspaper delivery boy, I met Jim through our common interest, ham radio, and became close friends. He returned to the States in 1968, and we lost contact since then till now. He has managed to find my email address from the internet.
---
Email from Shelley-san
I introduce in those days because Shelley which lived in the Kanto Mura gave an email and a photograph to me. 2014/6/16 To email page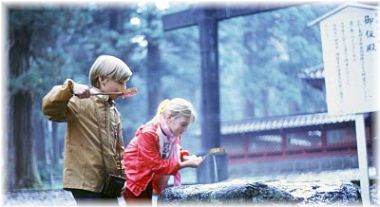 ---
Reunion after 46 years
Launch of this website leads me to search the colleagues from that time. March 20th 2013, five of us reunited at the Akishima Hospital and visited Ken Torikoshi. It was an emotional reunion after 46 years.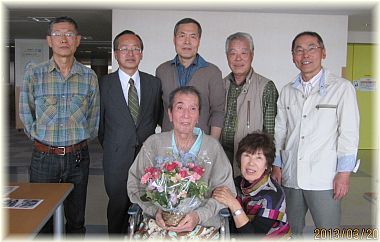 Since Ken's stroke a year and a bit ago, he has been staying at the hospital. Although he has been recovering slowly since, he still had a difficulty talking. However, he was enjoying listening our conversation by nodding and smiling sometime to muse over old memories.
From the left, Mr Hanzawa, Mr Hayashimi, Mr Kamijyou, Mr Hirano and myself. Mr Torikoshi and his wife are in front.
We promised to reunite again once Ken got well.
---
Then ID pass
I found my ID pass I used to use to go through the security gate of the Kanto-mura and the Fuchu Base.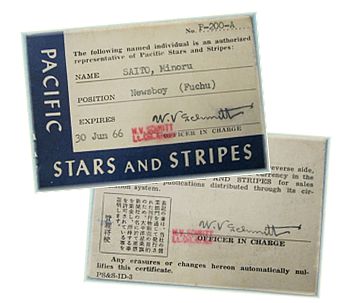 Stars and Stripes Newspaper now
A picture of the current 'Stars and Stripes Newspaper'. It used to be 'Pacific Stars and Stripes' before merging into 'Stars and Stripes'.